Big C's Plumbing Blog
Plumbing Articles from Tulsa, OK.
Re-Piping With PEX: What You Need to Know About New Age Plumbing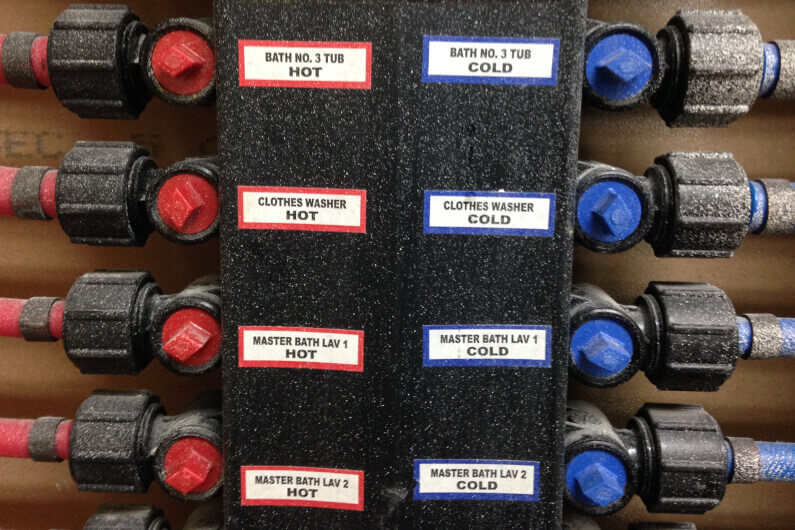 Do you know what materials the plumbers used when they plumbed your home? Depending on the age of the house, and how much plumbing work you've needed over the years, you'll likely find copper, polyvinyl chloride (PVC), and possibly brass plumbing products.
Many older homes have cast iron or galvanized steel pipes—some homes built before 1986 still have lead pipes.
Even the most durable plumbing materials won't last forever, and if you're considering updating your pipes, why not look into installing PEX pipes? It's an up-and-coming trend for both professionals and DIYers. Welcome to new age plumbing!
Not sure about the newest and best plumbing materials? We've put together a guide to re-piping with PEX. Take a minute and explore the plumbing product that can solve multiple plumbing issues.
What Is PEX Pipe?
Whether you've seen it in the plumbing section of your local hardware store, or your plumber suggested PEX pipes as an option for an upcoming project, you'd like to know more about it before you use it for new plumbing pipes.
Cross-linked polyethylene—shortened to PEX—is a flexible plastic designed by a German scientist, and introduced in the U.S. during the 1980s. Popular for use in radiant floor heating systems, today PEX also offers an excellent solution for replacing copper and galvanized steel water lines.
Plumbers interested in keeping up with new age plumbing, use it in new construction plumbing jobs and for remodeling projects.
Red White and Blue PEX
Manufacturers make it easy to select the right PEX. It's color-coded as follows:
Red carries hot water.
Blue carries cold water.
White carries hot or cold water.
Your plumber may also use grey PEX pipe, which they can use for both hot and cold water as well.
PEX comes in a wide range of lengths. The 10-foot pieces work well for small repairs. For installing the entire water system of a home, plumbers can get rolls over 500 feet in length.
As far as size, it's available in diameters ranging from 3/8 to 1-inch.
Why You Should Consider Updating Plumbing Pipes
Earlier, we mentioned using the age of a home to determine what plumbers used in the initial plumbing system. The reason we're concerned about age is that each type of plumbing material has a different lifespan.
If you have brass, galvanized steel, or cast iron pipes, they can last for 80 to 100 years. Copper has a lifespan of about 70-80 years, while PVC pipes typically last 24-45 years.
If you live in a home built before 1960 and it still has the original plumbing system, you likely have cast iron or galvanized steel piping. Let's say you moved into your home in the 1970s. Even if you immediately updated the plumbing with PVC pipes, they're nearing the end of their useful life.
To get a better idea of when or if you need to update piping, you'll want to take a look at the exposed pipes in your home. Look for flaking, discoloration, bumps, and anything else that looks odd. If you're not sure what to look for, call your plumber over and have them do an inspection.
We don't advise waiting until a pipe corrodes all the way through, or you experience some other plumbing catastrophe. It's better to be proactive and update your system before you have serious problems.
Where Your Plumber Can Use PEX
Before you set your heart on this new generation plumbing material, make sure you talk with your plumbing professional. PEX isn't suitable for all applications. Plumbers can use it for the following:
Water Supply Lines
Residential Sprinkler Systems
If you have radiator heat, you can also use PEX to distribute the hot water used for heating. Ask your plumber for other ideas about using this popular material.
Your plumber will only use PEX tubing in locations where they feel confident it won't get damaged. They cannot install it in a location with exposure to direct or indirect sunlight. UV rays will damage the material over time.
PEX is not suitable for use in swimming pool plumbing. High concentrations of chlorine can damage it, and chlorine levels in pool water typically hover at or slightly over the minimum allowable levels.
Advantages of New Age Plumbing and PEX
There are multiple reasons why plumbers choose PEX piping for new era plumbing installations.
For one, unlike copper and steel pipes, PEX isn't susceptible to corrosion. A corrosion-resistant material minimizes the risk of leaks.
Since it's a flexible plastic material, PEX expands, which means you won't need to worry about your plumbing pipes freeze-cracking during cold snaps. No more costly repairs due to pipe bursts!
Plumbers love PEX because they can install it under concrete—a helpful feature when repairing a slab leak.
Have you ever heard the "thunk" caused by a water hammer? The noise is the result of water rushing under pressure through your pipes. It's not only loud and annoying, but it could be a sign of damaged metal piping. Water flows quietly through PEX pipes.
Did we mention color-coding? Yes, we did, and most plumbers and DIYers appreciate the ability to distinguish between the hot and cold water supply lines.
Another advantage of using PEX is the price. It's more economical than copper piping, so it makes an excellent option for multiple plumbing jobs.
Ready to Update Your Plumbing System?
Now that you know a little more about this revolutionary new age plumbing material, it's time to give serious consideration to updating your plumbing.
Whether you're living in an older home, or you have pipes in need of replacement, PEX offers many advantages over copper or steel piping. It's durable, flexible, and cost-effective!
If you're ready to install new plumbing, or you require other plumbing services, get in touch with our team! With over 25 years of plumbing experience in the Tulsa area, we've seen it all, and we've managed just about every plumbing problem you can imagine.
We're here for you with 24-hour emergency service for those unexpected backups or leaks.
big c's plumbing services
© 2013-2023 BigCPlumbersTulsa.com
– All rights reserved. –
Information on this website may not be re-used without prior written consent from Big C's Plumbing Services.

Monday-Friday: 8:00am to 5:00pm
Saturday: Closed Normal Appointments
Sunday: Closed Normal Appointments
24/7 Emergency Services Available
Oklahoma Licensed, Bonded, Insured
OK. Plumbing Contractor & Gas Fitter #063224