Big C's Plumbing Blog
Plumbing Articles from Tulsa, OK.
Drain Care 101: How to Clean Smelly Drains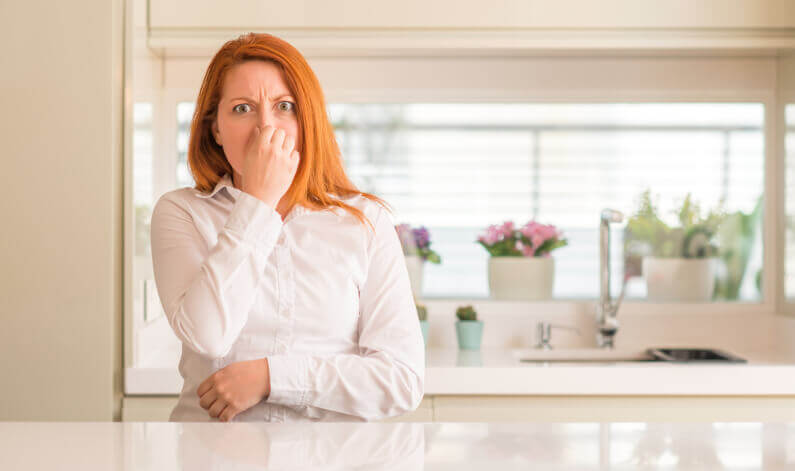 You float through the kitchen on your way to the living room, having an excellent day and feeling great about the state of your home. Then, suddenly, a stench weaves its way out of the drain and curses your nostrils. The Drain! Time to learn how to clean smelly drains the right way.
It's is stinky again and you have to figure out a way to deal with it or you won't be able to think about anything else. We get it. There are few stinks more putrid than the one that comes from the drain, but we're here to help you figure out how to deal with it.
Let's take a look at some of the methods of how to clean smelly drains so you can get your life back on track.
How to Clean Smelly Drains the Right Way
There are two primary ways that a drain starts to smell awful. You either have a garbage disposal that's backed up and smelling, or you don't. Both cases require that you respond a little bit differently.
Let's start with ideas for those with garbage disposals.
If You Have a Garbage Disposal..
To clear out your stinky garbage disposal, start by plugging the drain. Squirt a fair amount of dish soap into the sink and proceed to fill it up with with hot water.
Once your sink is full of warm soapy water, unplug the drain and start running your disposal. Running the soapy warm water through the disposal might just clean it enough to break up and unclog whatever bacteria-filled chunk of nastiness is causing the smell.
Additionally, it will generally clean the disposal in a way that gets rid of smells that come from all over the device. Another way to clear out the blades and get rid of the smell is to use about a dozen ice cubes, some salt, and some acidic juice.
First things first, make sure your blades are clean and the disposal is generally free from debris. You don't have to be too particular, but it's nice to give the concoction as clean of a slate as possible.
Throw as many ice cubes as you're able in the disposal. Next, toss a good handful of salt in, followed by some lemon peels after you squeeze the juice in. Run the disposal, and you'll find that the blades are scrubbed and the lemon releases a great smell.
Our final suggestion is to place lemon slices into cupcake trays, fill the trays with vinegar, and freeze them. Run those cubes down the disposal the next day after they've gotten nice and hard.
Straight Forward Drains
In a lot of cases, the disgusting smell that comes from our drains is just a buildup of bacteria from the last few weeks or months. When it hits that critical point, the dogs are unleashed and the smell starts to escape more heavily.
It's unlikely that the smell is from a chunk of food or debris stuck in the drain, because you'd be experiencing a clog if that were the case. The real culprit is just a semi-water-resistent grouping of bacteria.
You can manage the smell by regularly sending boiling water down the drain. It's a good practice to just send all leftover boiling water into the drain. If you make some pasta or tea, don't let the excess cool off on the side of the stove.
Just pour it down the drain and you'll clear out a good deal of bacteria that hasn't caked onto the walls of the pipe just yet. You can also try to make a concoction of baking soda and vinegar.
Send that combination down the drain and give it a minute or two then follow up with a pot of boiling water.
In fact, it's not a bad idea to send boiling or near-boiling water down your drains on a regular basis. You can infuse that water with different essential oils and products that will coat your pipes with a pleasant smell.
Getting Down and Dirty
Another way to ensure success is to go under the sink with some rubber gloves and remove the curved piece of the drainpipe.
This part is typically exposed under the sink and can be removed by unscrewing either end. This curve is where bacteria likes to hangout and collect. That means it's also where most of that stench is likely to be.
You can empty any sitting water from this area into a bucket. Then think about soaking the piece in some alcohol or vinegar for a while. Once you take it out, give it a scrub and it'll be good as new.
Anything beyond that, though, probably isn't good to explore unless you have some plumbing experience. It's possible to do some damage or get into really frustrating situations if you start pulling out pipes to check if they're clean!
When the Problem Persists
Sometimes you just have to throw in the towel when the smell won't go away. There are dozens of different issues that could cause lasting drain smells, and some of them have to be addressed by the professionals.
Calling in a plumber to figure out and fix the issue is something that we all have to do sometimes. It's smart to try all of the troubleshooting options you have at your disposal. However, eventually the time may come when it's necessary to call the plumber for a proper drain cleaning.
A plumber can give your drain system a thorough cleaning. They can also inspect the situation and see if there are any significant issues with the way your pipes are arranged or functioning. Some older pipes are so caked with grime and gunk that the quality of your home's water is put in jeopardy.
Having Some Trouble with Your Drains?
Trying to figure out how to clean smelly drains is something that we all have to deal with sometimes. If your problem is persisting, we're here to help.
Contact us for professional plumbing services or explore our site for more ideas on how to keep your home plumbing in great shape.
big c's plumbing services
© 2013-2023 BigCPlumbersTulsa.com
– All rights reserved. –
Information on this website may not be re-used without prior written consent from Big C's Plumbing Services.

Monday-Friday: 8:00am to 5:00pm
Saturday: Closed Normal Appointments
Sunday: Closed Normal Appointments
24/7 Emergency Services Available
Oklahoma Licensed, Bonded, Insured
OK. Plumbing Contractor & Gas Fitter #063224