Find a Plumber Near Me.
Serving Tulsa, Broken Arrow, Bixby OK & Nearby Area's
Dependable Nearby Plumbers for Tulsa Area
When searching for a 'Plumber near me' around the Tulsa or Broken Arrow area, we always have you covered. You never have to worry about plumbing problems ever again with a local plumber on your speed dial! With licensed master plumbers at Big C's Plumbing Services, all residential and commercial plumbing systems are covered for repairs, replacements, installations, and more. Whether you need one-time service, ongoing maintenance, or same-day plumbing services, talk to our friendly customer service team and schedule a visit for an estimate.
What plumbing service are you looking for? We've taken on thousands of jobs for both residential and commercial clients. From homes to buildings to commercial offices to warehouses and more, we repair home plumbing systems, sewer lines, water heaters, pipes, and more. Our plumbers are licensed and trained with extensive years of experience on the job in areas where a plumber near me in Tulsa applies.
Owasso Plumber
Haskell Plumber
Jenks Plumber
Sand Springs Plumber
Claremore Plumber
Coweta Plumber
Catoosa Plumber
Wagoner Plumber
Skiatook Plumber
Chouteau Plumber
Sapulpa Plumber
Glenpool Plumber
Turley Plumber
Collinsville Plumber
Sperry Plumber
Sequoyah Plumber
Limestone Plumber
Inola Plumber
Tiawah Plumber
Nearby Plumbers for All of Tulsa and Beyond
With a local plumber, you get incredible service when you need it. Our work is fully guaranteed. With over 25 years of experience, we've worked with all kinds of homes, apartment buildings, offices, sewer lines, and more in Tulsa, Broken Arrow, Bixby, and surrounding areas.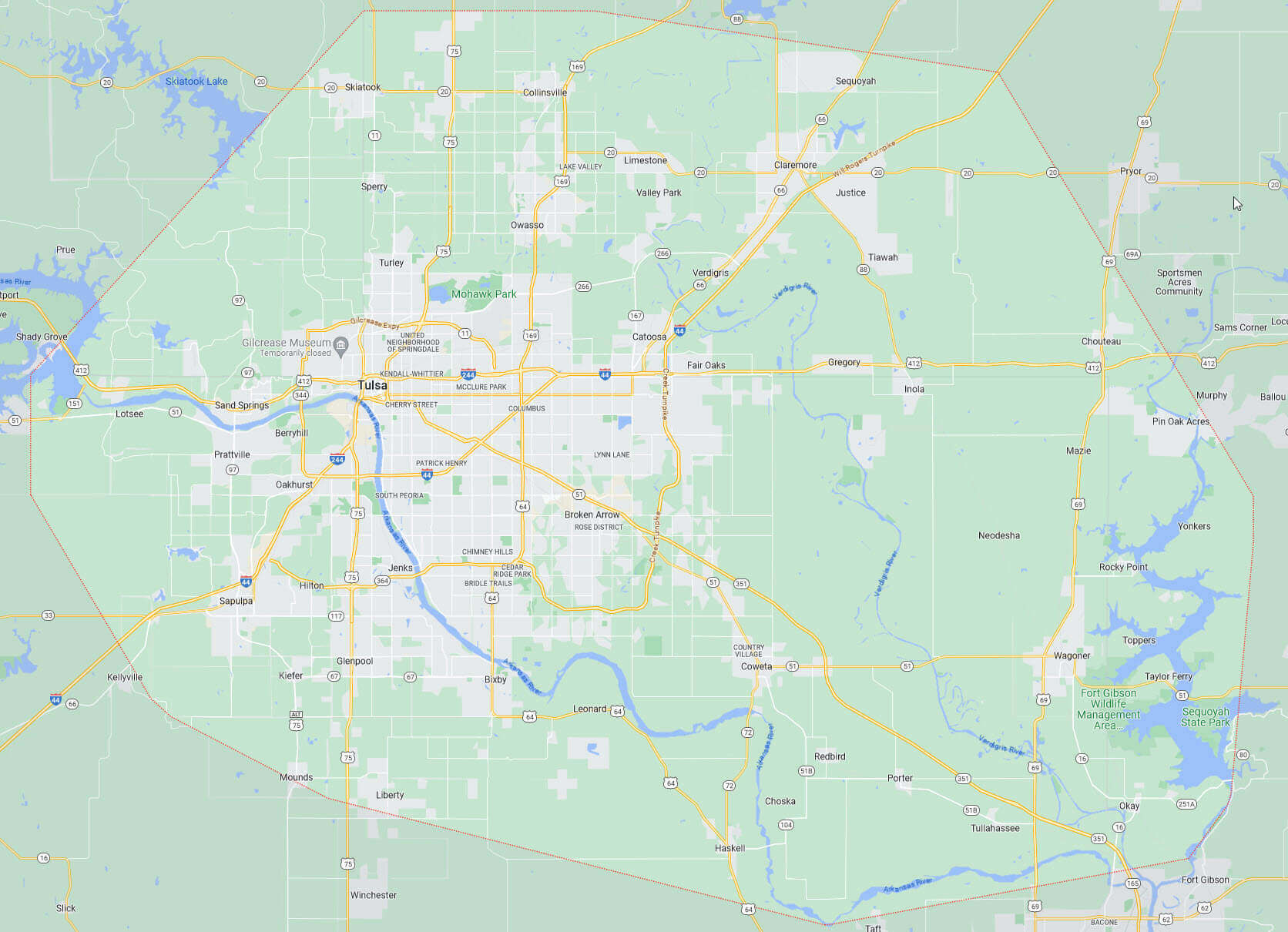 (Click Service Area Map to Enlarge)
There is Always a "Plumber Near Me" With Big C's Plumbing
Does it matter if you have a beautiful home if the plumbing doesn't work properly? Many clients have felt that their home feels completely out of whack due to a clogged drain, broken pipe, dysfunctional water heater, slow draining faucets, and clogged toilets. Why not let our experienced plumbers troubleshoot and provide you with a solution today?
Some of the plumbers near me services we offer include:
Drain Cleaning Services
Water Heater Services
Trenchless Sewer Repair
Slab Leak Locate & Repair
Commercial Plumbing
Gas Pressure Testing
Gas Line Repair
Water Line Re-Piping
Video Camera Inspection
Tankless Water Heater Services
Cracked or Broken Pipes
Faucet and Fixture Repairs
Plumbing Fixtures
Plumbing Valve Replacement
Kitchen Plumbing
Bathroom Plumbing
Appliance Relocation
Kitchen Remodeling
Bathroom Remodeling
General Plumbing Repair
Residential and Commercial
Always find plumbing near me that works for your schedule and plumbing repair needs.
Looking for a nearby plumber who offers everything? The truth is so many people wait to fix a slow draining bathtub or water leaking pipe, when that could cause more damage. You don't have to worry about spending weeks to resolve a plumbing problem with our experts.
We can quickly assess your plumbing fixtures and pipes or slab leaks and using the latest technology, find where your leak or bad pipe is, then offer services for repair or replacement. Our plumbing trucks are equipped with all the tools and materials needed to repair your plumbing system right the first time.
If you need a plumbing service technician right now anywhere in our above service area, don't hesitate to call our offices at (918) 218-2224 and schedule a visit or ask us a question. We're happy to help and provide you with the answers you need to make the best decision.
Finding a Plumber Near Me Who Can Do It All
We're the local plumbing company who provides full services and even 24 hour emergency services. Our clients tell us that we're the best because of our fast response and excellent knowledge for all plumbing repairs. In Tulsa and surrounding areas like Broken Arrow, Bixby, and Claremore, we're known as the plumbing experts. When searching plumbers near me, always look for those with the most experience and knowledge of the area.
As the local master certified plumbers in OK, Big C's Plumbing Services have continually improved their services and expanded their plumbing service areas to help all residents and businesses in the area. Above all, we strive to go above and beyond expectations for our clients, which is why we take on any job, whether big or small.
Ask our Expert Tulsa Area Plumbers
Do you have a plumbing problem that needs to be fixed today? Call on our expert plumbing contractors to get the job done quickly and correctly! You can't wait and neither can we. Our Tulsa plumbers arrive promptly with fully stocked trucks and state-of-the-art tools. Whether you need your sewer lines replaced or a video inspection to find leaks, we're ready to take on any issue.
In the past, we've helped clients with difficult problems, including re-piping, slab leak repairs, gas fitting, and leak detection. If you spot water damage but can't find the problem in your home, we've got a quick solution to stop the leak and get your system back to efficiency. With local plumbing help, you don't have to worry about additional water damage to your home. In addition to plumbing repairs, you can call on us for gas fitting and home remodeling needs too.
Hydrostatic Pressure Test
Natural Gas Services
Sewer Camera Inspection
Sewer Line Replacement
Water Line Re-Piping
General Plumbing Repair
Plumbing Fixtures
Plumbing Valve Replacement
Kitchen Plumbing
Bathroom Plumbing
Appliance Relocation
Bathroom Remodeling
Foundation Piering
How We Provide Top Notch Plumbing Services FAST
Do you need an emergency plumber? Call (918) 218-2224 to schedule faster service.
There's really no one else who knows the Tulsa area and plumbing systems like Big C's Plumbing Services. When looking for a "plumber near me", try our plumbers first. We service all brands of water fixtures and appliances, and we also offer every type of installation for residential and commercial buildings.
We work with brands like Delta, Kohler, American Standard, Whirlpool, Moen, Price Pfister, Grohe, Aqua-Pure, Toto, and more. We're the one-stop plumbing service technicians you need for any repairs.
Check in with our customer service team for limited time specials on drain cleaning and other repairs. With over 25 years of Oklahoma plumbing experience, we hope to be your next call when you have an issue. You can expect fast, same-day service and all of our work is fully guaranteed as licensed, master plumbers.
Call (918) 218-2224 for a plumber near me and speak with our Tulsa plumbers today to get an estimate and diagnosis. We'll find the issue and talk through repairs before any work begins. That's why so many of our clients recommend our affordable plumbing services.
Big C's Plumbing Services – Affordable Plumbing Repairs Done Right
We are Oklahoma's #1 leak detector and have the experience to back it up. Whether you are looking for a slab leak specialist, home plumbing repairs, commercial building plumbing repairs, or anything else, we're confident we can take on any job.
big c's plumbing services
© 2013-2023 BigCPlumbersTulsa.com
– All rights reserved. –
Information on this website may not be re-used without prior written consent from Big C's Plumbing Services.

Monday-Friday: 8:00am to 5:00pm
Saturday: Closed Normal Appointments
Sunday: Closed Normal Appointments
24/7 Emergency Services Available
Oklahoma Licensed, Bonded, Insured
OK. Plumbing Contractor & Gas Fitter #063224