Big C's Plumbing Blog
Plumbing Articles from Tulsa, OK.
6 Must-Know Tips for Planning a Bathroom Plumbing Layout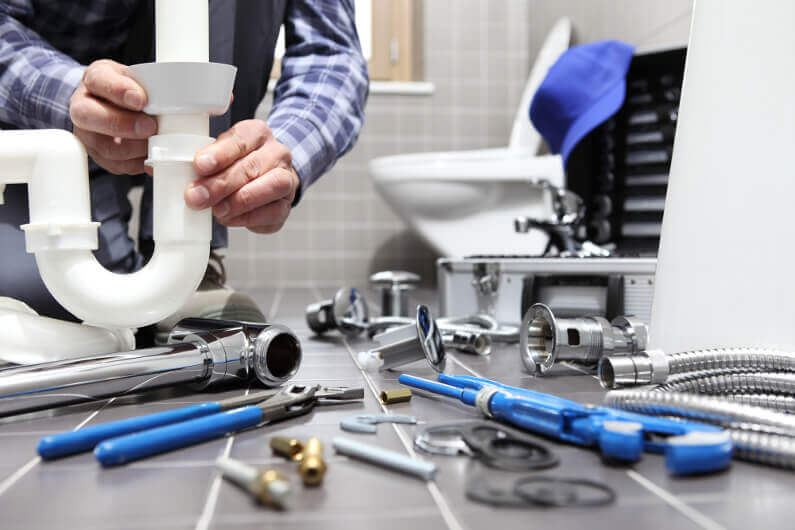 Are you about to remodel a bathroom? With the right design, this nook of your property could become one of your favorite rooms. After all, there's nothing better than enjoying a luxurious soak in the tub in the comfort of your own bathroom.
If you're remodeling, renovating, or designing a bathroom from scratch, a good bathroom plumbing layout is imperative. The last thing you want is any glaring errors in the plumbing layout to annoy you – or worse, cause regular problems.
In light of that, here are seven must-know tips to ensure your bathroom project goes smoothly.
Let's dive in!
1. Start Fresh
If you can, stripping out all the old bathroom fittings and sanitaryware is a great way to save your plumber time. Once this is done, they'll have an easier time inspecting and working on your old fittings and pipes.
2. Think About Your Family's Requirements
Talk to everyone in the household and carefully consider what requirements will affect the design, and thereby the bathroom plumbing layout. Most homes have a bathroom with a sink, toilet, and bathtub.
Depending on your space, you might also want a shower. Do you need more than one sink so several people can get ready in the morning?
If you don't have space, now is also the time to consider space-saving arrangements, like bath-shower combinations.
Or instead of two sinks, consider a double-width sink? These don't take up as much room, but the kids can still brush their teeth together in the mornings.
Here are a few possibilities to consider:
A bathtub, shower, neither or both?
Do you need a full-sized shower with wall tiles or a shower stall?
Choose between pedestal sinks or vanity sinks. Floating vanities are also popular options to free up more floor space. Do you need mirrors, drawers, or cabinets?
Do you want a regular flush toilet, or would your property benefit from a specialized toilet to ease drainages, such as a pressure-assisted toilet, up-flush toilets, a sewage ejector system, or a composting toilet?
Base these decisions on economic considerations as well as space and frequency of use.
3. Keep Your Existing Plumbing in Mind
If you're installing a new bathroom in your house, such as on the second floor or in a newly renovated basement, you should keep in mind existing plumbing and electrics.
Locating your new bathroom as close as possible to existing plumbing makes it much simpler (and cheaper) to get everything connected.
In the case of a basement bathroom, try to locate the bathroom directly underneath another. You should also keep in mind that an extraction fan will likely be needed. This needs placing on an exterior wall for outdoor venting.
If you're merely remodeling a bathroom, think about whether the same layout for fixtures will work in your design. Keep in mind that moving pipework will add to the cost and complexity of the project.
4. Be Cautious of Pipes in Exterior Walls
Pipes close to the outdoors in colder climates are at risk of freezing. Be wary of this, as frozen pipes can burst and cause water damage.
Leaks can be hard to detect until they have already done a lot of damage, and they can be challenging to repair. This should not be as much of an issue in temperate regions.
5. Consolidate the Plumbing Within Your Bath
You can make a project cheaper and easier to complete by consolidating the existing plumbing. Choose a single 'wet wall' or create a 'wet zone' in an L-shape, consisting of two adjacent walls.
This allows for a shower or bath area, or a combination of the two. If all the plumbing is on the same wall, this will also save costs. That's why a three-quarters style is a simplified layout featuring just a sink, toilet, and shower.
6. Make Small Bathrooms Appear Bigger
If your budget constraints force you to stick to the current bathroom plumbing layout, don't worry. You can still make a room appear more spacious and work in new design ideas.
Pedestrian or wall-mounted sinks are a great way to give some space back to the room. It allows for more light and legroom but can be used for storage space if it becomes necessary.
Glass shower walls are also a better option than shower curtains as they don't divide the wall. Solid partitions make a room feel smaller.
You can also create the illusion of more space by placing a large mirror instead of a small medicine cabinet. Mirrors visually double the space of a room and can bounce more light.
7. Incorporate Lighting in Your Design
You can create a great relaxing ambiance with the right bathroom lighting. LED recessed lights with wall sconces to work well beside or over a mirror. Install dimmer switches if these are too bright.
Well-installed vanity lighting can eliminate shadows from your face when you examine yourself in the mirror. Overhead and ambient lighting, like sunken track lightning or frosted glass fixtures, can also offer a soft and relaxing sheen.
Plan the lighting early and speak to your plumber and contractor about your ideas early on. This ensures that the plumbing and electrical wiring will be safe and work beside one another.
Ready to Plan Your Bathroom Plumbing Layout?
Planning a bathroom plumbing layout can be tricky, especially where cost and time constraints are concerned. So, we hope these tips have helped. If you are looking into a bathroom remodel in the Tulsa or Broken Arrow area, let us know and we can assist with the project.
For more information and advice on all things plumbing, please feel free to contact our friendly team today. We're more than happy to help you with any questions and queries you may have. Speak soon!
big c's plumbing services
© 2013-2023 BigCPlumbersTulsa.com
– All rights reserved. –
Information on this website may not be re-used without prior written consent from Big C's Plumbing Services.

Monday-Friday: 8:00am to 5:00pm
Saturday: Closed Normal Appointments
Sunday: Closed Normal Appointments
24/7 Emergency Services Available
Oklahoma Licensed, Bonded, Insured
OK. Plumbing Contractor & Gas Fitter #063224