Big C's Plumbing Blog
Plumbing Articles from Tulsa, OK.
Common Mistakes that Lead to DIY Plumbing Disasters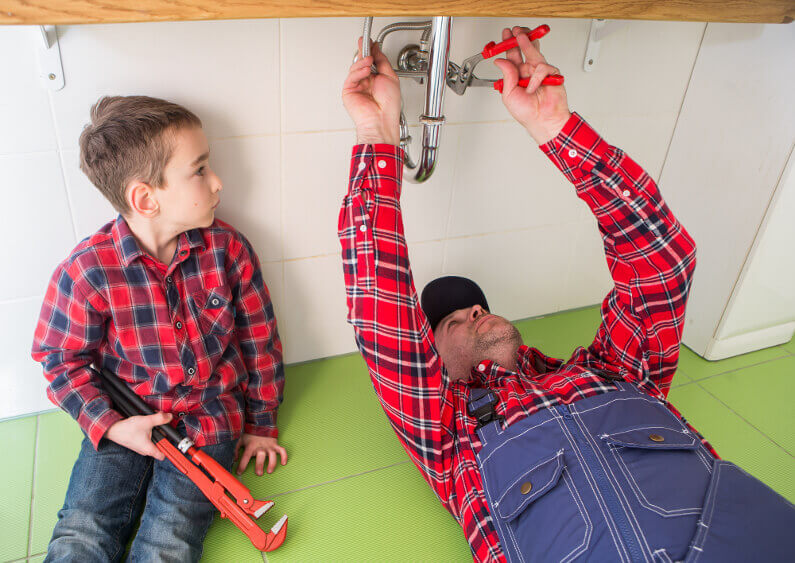 The DIY craze took the world by storm a few years ago, and with an expected growth of $143 billion by 2024, it doesn't seem to be slowing down any time soon.
Some of the most common home improvement projects homeowners choose to DIY are plumbing jobs. While there's nothing wrong with it, there are many plumbing mistakes you could make that could potentially lead to plumbing disasters if you don't know what you're doing.
So, what are some of these plumbing mistakes you should avoid? This guide highlights some of the most common ones, and we hope it'll help you avoid plumbing disasters.
Overtightening Plumbing Connections
One of the most common plumbing mistakes that could lead to plumbing disasters is the tightening of plumbing connections such as toilet bolts, supply tubes, and pipe fittings.
Overtightening causes the excessive cranking of galvanized or black pipes, tees, elbows, and coupling causes the cracking of the fittings. The bigger problem with this is that it's not going to happen immediately.
It could happen days or weeks after and take you by surprise when you find your home flooded. Overtightening plastic pipes is no good either, especially in the supply tubes connecting to faucets or the toilet, as they can easily break and cause leaks.
If you overtighten your toilet closet bolts or bowl components, it may crack the porcelain and damage the toilet. This will leave you with plumbing disasters and the need for a professional plumber.
Using Drain Line Cleaners First
One of the best ways to unclog a kitchen or bathroom sink by using barbed drainage cleaning tools or snaking. The next best way is to remove the drain P-trap and then pour out all the materials that are causing the blockage. However, most DIYers though, take the easiest route, which involves using drain cleaners and pouring an excessive amount of it as the first course of action.
This is one of the biggest plumbing mistakes you could make is to use liquid drain as it's not the most effective option in this case. These liquids can often lead to plumbing disasters that will require you to hire a professional plumber to fix them.
Most drain cleaners, especially the commercial types, tend to have a lot of harsh chemicals that break up the clog. However, if too much of it is used too often, they can easily eat away at your plumbing system and not only destroy metal pipes but plastic pipes as well. In addition to this, they destroy rubber gaskets, which could cause leakages in the future.
Starting Plumbing Projects Without the Right Tools or Spare Parts
One of the most common DIY plumbing mistakes involves starting repair jobs without all the necessary tools and spare parts. Some of these issues could lead to major plumbing disasters, like flooding. For instance, suppose you want to repair a faucet and purchase the cartilage or the washer only.
The thing is, if these are worn out, then there's a very high chance that other parts of that faucet are worn-out too. Failure to repair the gasket, O-rings, and stem when repairing your washer or cartridge could leave you with a leaking faucet. What this means is that you'll have to go back to the hardware store, then come back, disassemble and reassemble the faucet all over again.
It's important for you to be ready with such peripheral components, even before you start the project. Understand exactly what you need to complete everything without causing damages.
This goes for all plumbing projects, especially when fixing drain lines. It's important to have spare parts regardless of what you're fixing just in case you come across damaged parts that need replacing.
Forgetting to Turn Off the Water
You'd be surprised at the number of people that leave the water supply on to change a valve. Regardless of how fast you think you can do it, this is a bad idea, and it almost always backfires on most of them.
If by any chance you are unable to fix it as quickly as you thought you would, you'll end up with a flooded house, and this is a plumbing disaster you don't want to face. Avoid all this hassle by turning off the water supply before you start any plumbing repairs, regardless of how small they seem.
Mixing Up Tees, Wyes, and Elbows
It's incredibly important for you to know all the right fittings for every application during a plumbing process. If you mix up the fittings, chances are you will violate plumbing codes and end up with plumbing disasters, such as foul smells in your home. If you insist on going the DIY route, it's important for you to research and watch tutorials so you can understand the right applications for different fittings.
Sweating Copper Pipes With Water
If you have copper fittings, you need to know that they must be dry before sweating. If there is water around the area, the joints are bound to make. Heating the water with a torch to make it evaporate is a bad idea as well because the steam will just create holes in your pipes.
This will lead to water jets shooting all over the place, which will prompt more repairs. The best thing you can do is plug the pipe with white bread before you work with the torch.
Inadequate Slopes
When doing plumbing repairs, it's important for you to keep in mind that high slopes are usually not ideal. The problem with high slopes is that they make liquids move faster, but solids move a lot slower. This means that the solids will be left behind and lead to plumbing disasters.
Top Plumbing Mistakes: How to Avoid Plumbing Disasters
There you have it! These are some of the most common DIY plumbing mistakes that could lead to plumbing disasters. There are others, but these are the most common, so do your best to avoid them during your DIY plumbing projects.
If you do run into a plumbing disaster, please get in touch with us right away. At Big C's plumbing company, we have professional plumbers that will help you out of any plumbing emergency situation.
big c's plumbing services
© 2013-2023 BigCPlumbersTulsa.com
– All rights reserved. –
Information on this website may not be re-used without prior written consent from Big C's Plumbing Services.

Monday-Friday: 8:00am to 5:00pm
Saturday: Closed Normal Appointments
Sunday: Closed Normal Appointments
24/7 Emergency Services Available
Oklahoma Licensed, Bonded, Insured
OK. Plumbing Contractor & Gas Fitter #063224