About Big C's Plumbing
Serving Tulsa, Broken Arrow, Bixby OK & Nearby Area's
About Big C's Plumbing Service
I'm Chris Ogan, owner of Big C's Plumbing, I started my business 26 Years ago in '97. I had worked for a few Plumbing companies, some were great, but yet others were not so great.
I started out just wanting to be a better service provider, than I had seen in the Past, I wanted my customers to use me and my guys, and then use us from that point on.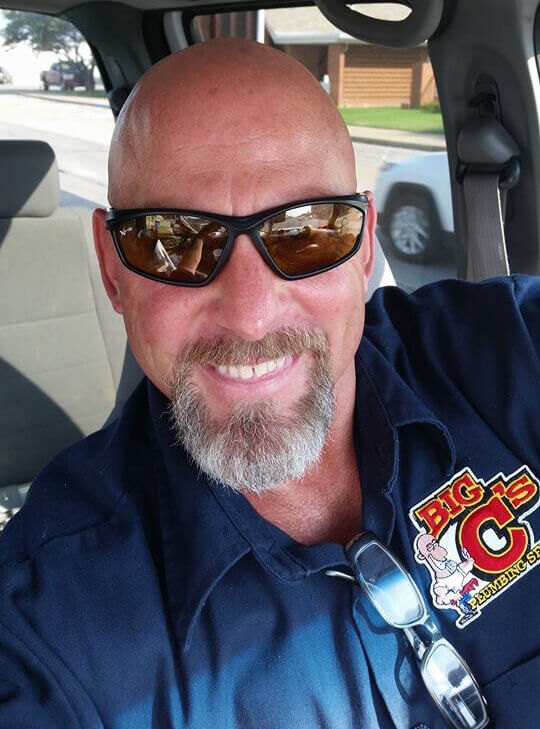 Master Plumber Chris Ogan – 'Big C'
I have seen a lot of customers come and go, over the past quarter of a century, and most are still with us.
However my main reason for starting Big C's Plumbing Services was that I wanted to have a company that my customers could rely on. For them to know that we are honest, and we are not trying to "sell" them the most expensive service, every time we come out.
I like to believe, we can do the jobs that other companies just can't get right. Sometimes that is a lot more work on our part, but I do believe we always go "Over and Beyond". That is the way I was taught, that is the way I was raised.
I appreciate you taking the time to read our website, and I do hope you give us a call, We will Take care of you, as if your house was our own. Thank you Chris, "Big C"
Sewer Camera Inspection
Sewer Line Replacement
Water Line Re-Piping
General Plumbing Repair
Plumbing Fixtures
Plumbing Valve Replacement
Kitchen Plumbing
Bathroom Plumbing
Appliance Relocation
Bathroom Remodeling
Foundation Piering
Full Service Tulsa & Broken Arrow Plumbing Company
The highly trained plumbing pro's with Big C's Plumbing have the experience and current knowledge needed to find the best solution for the job at hand. All while using state of the art equipment to solve whatever plumbing situation that exists, in the most effective manner possible.
Big C's Plumbing Service provides full service plumbing in Tulsa, Broken Arrow, Bixby and the surrounding area.
Whether you need residential or commercial plumbing services, we are certified and ready to take care of all your plumbing, leak, drain, and gas line needs.
Asking If There is a Plumber Near Me?
Big C's Plumbing Services is a licensed master plumber available anywhere around Tulsa & Broken Arrow area's.
Big C's Plumbing Services is proud to be Tulsa's leading Residential and Commercial Plumbing installation, repair contractor, and leak detection expert. We are happy to provide you with experienced, dependable, licensed professionals that get the job done right the first time out without costing a fortune. If Big C's can't fix it, Nobody can!
We are happy to serve the entire Tulsa, Oklahoma area and nearby. Including the communities in Tulsa, Broken Arrow, Bixby, Owasso, Chouteau, Wagoner, Jenks and all the surrounding areas.
Owasso Plumber
Jenks Plumber
Claremore Plumber
Catoosa Plumber
Skiatook Plumber
Inola Plumber
Chouteau Plumber
Sapulpa Plumber
Glenpool Plumber
Turley Plumber
Collinsville Plumber
Sequoyah Plumber
Haskell Plumber
Sand Springs Plumber
Coweta Plumber
Wagoner Plumber
Sperry Plumber
Limestone Plumber
big c's plumbing services
© 2013-2023 BigCPlumbersTulsa.com
– All rights reserved. –
Information on this website may not be re-used without prior written consent from Big C's Plumbing Services.

Monday-Friday: 8:00am to 5:00pm
Saturday: Closed Normal Appointments
Sunday: Closed Normal Appointments
24/7 Emergency Services Available
Oklahoma Licensed, Bonded, Insured
OK. Plumbing Contractor & Gas Fitter #063224