Top-Rated Plumbers for Leak Detection Services in Tulsa and Beyond
Choose the leak detection experts in Tulsa. With over 26 years of experience, we're the plumbers Oklahoma calls for fast, reliable service.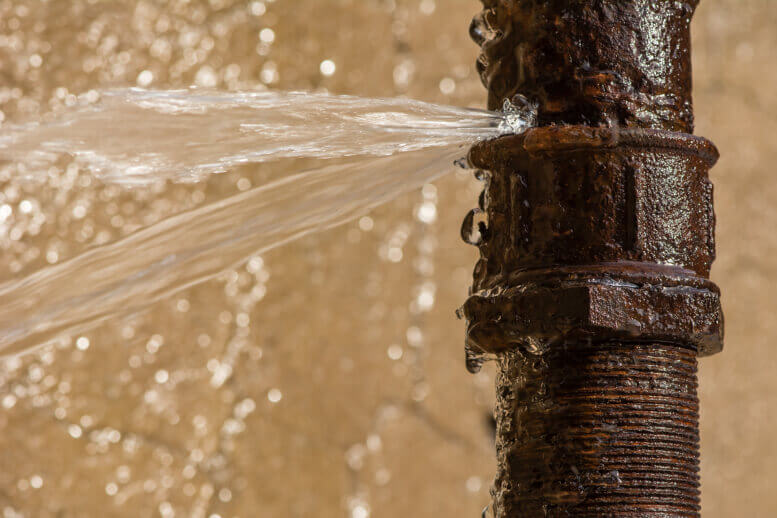 Are you looking for expert leak detection? Plumbing leaks are a common problem that can lead to flooding and other damage in your home. The good news is, there is help available! Leak detection services can help you identify hidden leaks before they become a serious problem. A licensed plumber from Big C's Plumbing Services will be able to locate your leak, repair it and protect your property from unnecessary damage.
Talk to a our leak detection plumbers and find that leak location quickly. Call our office to schedule a visit and get an estimate today.
'Why We're the Leak Detection Tulsa Experts
Leak detection is the systematic process of finding water leaks, whether you're having an issue in your home, office, warehouse, apartment building, and more. We can provide fast, reliable water line leak detection and repair.  Our Leak Detection and Leak Locate services are so dependable, many other plumbing companies call us when they need to find leaks for their customers!
What's Included with Leak Detection Service
Pipe inspection
Camera inspection
Leak repair
Sewer leak detection and repair
Find a leaking pipe quickly
Slab leak detection
Big C's Plumbing Services offers Tulsa leak detection, as well as master plumbing services. Our team head is master certified and licensed with over 26 years of experience. Not only can we detect your leak, but our trucks come stocked with all of the materials, tools, pipes, appliance parts, and the latest technology to fix a leak or provide complex water leak repair for any residential or commercial client.
Our services are available beyond Tulsa. We also provide Broken Arrow leak detection and leak repair for all nearby areas in OK. You can call Big C's Plumbing Services when you are searching for 'leak repair near me' any time.
Finding the Leak Location
It's important to stop a leak before it gets to be a colossal problem that's more expensive to fix due to flood damage and mold. A small leak can actually be indicative of a much larger issue. Big C's Plumbing Services can ensure that your plumbing system does not experience further damage from undetected plumbing leaks.
Once the leak is found, we've got plenty of solutions and all the tools necessary to fix a leaky pipe or resolve any other plumbing leaks. Limiting damage caused by water leaks in your home or business is imperative, so we also provide same-day and emergency services.
Slab Leak Detection
Slab leaks are hidden leaks that occur beneath the foundation of your home. A common type of slab leak is caused by cracks or fractures in the concrete slabs (or "footing") that support your home. Slab leaks can be difficult to detect as they're usually hidden from view, but as they go undetected, they can cause damage to your home. Worse yet, if not repaired properly and promptly, slab leaks can lead to mold and mildew growth inside the walls or floor of your house—which can lead to structural damage over time if left untreated!
The good news is that there are professional leak detection services available today that will help you identify whether or not you have a slab leak in need of repair. In some cases, it is a simpler repair that our Tulsa leak detection experts are ready to handle quickly and without re-piping or major repairs.
If you suspect you have a slab leak, we are here to help! We offer slab leak detection services designed to locate and fix any possible issues in the shortest amount of time possible.
For Broken Arrow leak detection and service for other areas around Tulsa, call us today for more information about our services or for help with an existing issue.
Professional Leak Detection is the First Step to Leak Repair
When determining what type of plumbing leaks you have, we'll go through several checks to locate a leak and then determine what leak repair is needed on the spot. Our truck comes equipped with all of the latest equipment and technology, including video cameras for trickier plumbing systems.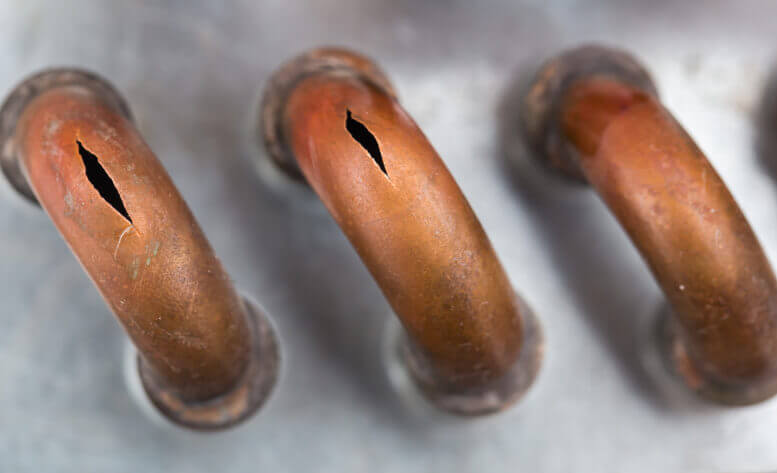 How to Locate a Leak
When you discover a leak, the first step is to locate the source of water loss. There are several methods for detecting leaks in your plumbing system. The most common method used by plumbers is "sweeping" or "snaking". Sweeping involves using a long flexible cable with an attached rod to probe drains and pipes for signs of leakage. The other method involves using a special meter that detects vibrations caused by hidden leaks in pipes.
Another way to detect hidden leaks is with the use of video cameras inserted into drain lines or other areas where leaks may be occurring. This can allow you to see where exactly your problem area is located so that repairs can begin as soon as possible without any further delays."
Sewer Camera Leak Inspection
Camera leak detection service uses a sewer camera to look for problems in pipes and drains.
A video camera inspection is the best way to determine if there is a leak in your home. A camera is inserted into the pipe and then used to look for problems in pipes and drains. The camera can be attached to a cable that extends into the pipe, allowing it to be used in a wide variety of pipes and drains. Once inserted, the camera sends images back through the cable so that problems can be easily identified by an experienced technician who will inform you of what steps need to be taken next.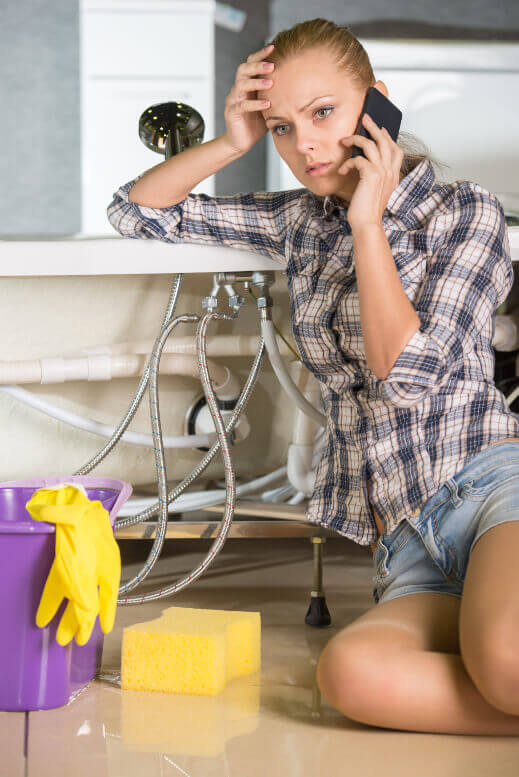 Sewer Leak Repair
A sewer leak repair service will stop your underground sewer pipe from leaking, without having to dig up your property to do it.
Leak detection services are one of the best ways to avoid an underground sewer pipe leak. Here's why:
A sewage pipe will typically have a trap seal that exists in every joint between sections of pipe. This seal allows waste materials to settle in one chamber while fresh water flows through another chamber, keeping both separate and preventing odors from escaping into the atmosphere. When this seal becomes compromised, it can allow raw sewage to escape into your yard or home; if left untreated, this can cause serious damage over time!
A sewer leak repair service will stop your underground sewer pipe from leaking, without having to dig up your property to do it.
In addition to preserving your yard and protecting you from potential legal action by neighbors or landlords who may be affected by this problem as well (especially if it's a rental house), fixing plumbing leaks before they become serious issues can save tens of thousands of dollars over time—and prevent future damage down the road!
Water leak detection is important to avoid costly repairs and claims.
Leak detection services protect your property from flooding and other damage due to water or sewage plumbing leaks We're always here for you with emergency leak detection services in Tulsa, Bixby, Broken Arrow and surrounding areas.
Water damage insurance policies typically do not cover the cost of repairing or replacing damaged property in the event of a water leak, which means that you may be on the hook for those costs yourself.
If you fail to act quickly enough, you run the risk of an even more serious incident occurring, such as mold growth or structural damage to your home or business building.
Licensed plumbers can save you money by detecting and repairing water leaks before they become a serious problem.
When you hire a leak detection service for your home or business, you will know exactly where every single problem is located. This means that instead of spending money on repairs that may not even be necessary, you can focus on fixing only those areas that need fixing. You will also save time since everything will be taken care of quickly; instead of having multiple people working on separate small jobs at once (and possibly making mistakes along the way), one person will do everything at once so there are no mistakes made during this process!
Do you have a question about leak detection or need an estimate on services? Our licensed plumbers offer fast, reliable services. With an estimate, you'll know exactly what work will be performed before we get started.
Hire the Leak Detection Tulsa Experts
Hidden leaks are a serious problem, but they can be avoided with the help of a professional water leak detection service. Leak detection services will find and repair any plumbing leaks in your home so that you don't have to worry about them causing extensive damage or becoming a health concern. If you need help finding these plumbing leaks, contact us today! Our licensed plumbers will not only find the source of your leak but also repair it quickly and professionally so that your family stays safe.
Asking If There is a Plumber Near Me?
Big C's Plumbing Services is a licensed master plumber available anywhere around Tulsa & Broken Arrow area's.
Big C's Plumbing Services is proud to be Tulsa's leading Residential and Commercial Plumbing installation, repair contractor, and leak detection expert. We are happy to provide you with experienced, dependable, licensed professionals that get the job done right the first time out without costing a fortune. If Big C's can't fix it, Nobody can!
We are happy to serve the entire Tulsa, Oklahoma area and nearby. Including the communities in Tulsa, Broken Arrow, Bixby, Owasso, Chouteau, Wagoner, Jenks and all the surrounding areas.
Owasso Plumber
Jenks Plumber
Claremore Plumber
Catoosa Plumber
Skiatook Plumber
Inola Plumber
Chouteau Plumber
Sapulpa Plumber
Glenpool Plumber
Turley Plumber
Collinsville Plumber
Sequoyah Plumber
Haskell Plumber
Sand Springs Plumber
Coweta Plumber
Wagoner Plumber
Sperry Plumber
Limestone Plumber
big c's plumbing services
© 2013-2023 BigCPlumbersTulsa.com
– All rights reserved. –
Information on this website may not be re-used without prior written consent from Big C's Plumbing Services.

Monday-Friday: 8:00am to 5:00pm
Saturday: Closed Normal Appointments
Sunday: Closed Normal Appointments
24/7 Emergency Services Available
Oklahoma Licensed, Bonded, Insured
OK. Plumbing Contractor & Gas Fitter #063224