Big C's Plumbing Blog
Plumbing Articles from Tulsa, OK.
4 Common Causes for a Clogged Sink (And How to Unclog It)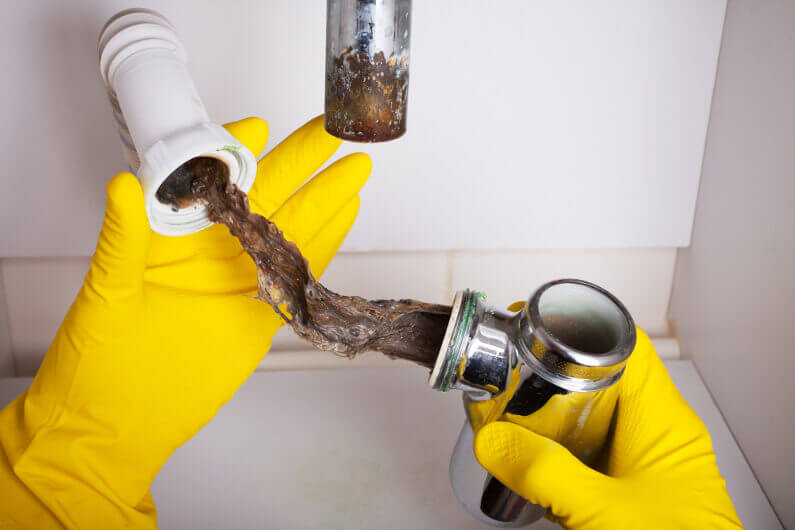 Everyone knows the pain of having a clogged sink occur in your home. It's a deflating experience.
Now, not only can you not use the sink, but you have no idea what caused it or how to go about fixing it.
Truth be told, there are several things that can be the main reason your drain is clogged. It can also be a combination of several factors that have added up over time.
Regardless, the best way to avoid them is to know what the most common causes of a clogged sink are. Here are some of the most common of culprits.
1. Soap
That's right, ladies and gentlemen, the very thing that you use to wash your hands might be what's causing your drain to clog the most.
Those of you that use bars of soap to wash your hands are susceptible to the fats and grease in the soap bar to cling to your drain. Over time, those add up to a significant amount of soap scum.
The best thing to do for this situation is to hire an experienced and trusted drain cleaning expert. Have them pressure clean your drain as it's the only way to truly wipe away the cumulative scum.
For future reference, consider making the switch to bathroom and shower soaps that are in liquid form. Sometimes you just can't make that change for skin irritation purposes. If that's the case just try to be more mindful of the amount of bar soap you're using.
2. Grease Buildup
The sink in your kitchen has the highest likelihood of clogging and causing a foul stench to come from your drain.
The biggest reason for that is because of all the grease that builds up within the drain itself. As you go to throw unused food down the garbage disposal, a good amount is likely to build-up along the sides of your piping.
One of the biggest mistakes people make is pouring excess grease down the drain while cooking ground meat or ground turkey.
Refrain from doing that as much as possible. Over only a few months, you could be paying hundreds of dollars in repairs because of it.
A great home remedy for unclogging your drain from grease is with just hot water and salt. Just bring water to a boil while mixing up a few tablespoons of salt. Mix it into the water, let it sit for two minutes, and then pour it down the clogged drain.
If that doesn't work then you'll need to reach out to a professional for further drain cleaning.
3. Dirt
Many people make the mistake of thinking that any drain serves the same purpose of a shower drain. In that, they assume the drain in their sink can withstand having dirt thrown down it.
Technically, not even your shower drain is equipped to handle a significant amount of dirt. That's a misconception of its own.
The problem is that dirt particles pact together when water is applied to them. So by washing significant amounts of them down your drain, you're essentially asking for mud to gather along the side of your drain(s).
Unfortunately, the only way you can rid your drain of this problem by yourself is to prevent it from happening in the first place.
Try shaking, brushing, or stomping off any excess dirt that you see prior to walking inside of the house. If you need to clean a piece of clothing, such as a baseball cleat, then be sure to rinse it off under the hose outside.
Do the same if you notice a significant amount of dirt on your body from a day at your job or from playing sports.
If you already have a clogged sink from dirt, then it's time to call in a professional drain cleaner to apply pressure to the buildup.
4. Hair
One of the biggest culprits of them all. Hair is often mixed into any clog that you are experiencing in your bathroom sink or shower/bathtub drain.
Your head has between 80,000 to 120,000 hair follicles (strands of hair) on it. Consider the fact that you aren't the only one using your sink or shower. With multiple people it's no wonder that hair can be such a nuisance to your drain.
Not to mention, it can clump up and ball up in a way that will prevent any water from passing through it. It's flexible enough to catch onto other buildup but strong enough to withstand immense water pressure.
It's also completely disgusting to have to deal with. Picking hair buildup out of a drain isn't for the faint of heart.
If you have a drain snake then you can use it to reach down the pipe, grab a significant portion of the hair clump, and pull it up a little bit at a time.
Do not use a metal coat hanger to stick down your drain. The metal will scrape at the inside of your pipes and cause further damage.
Should the hair buildup prove to be too substantial, then you should (you guessed it!) call a drain cleaning specialist to rid your drain of it.
Have Your Clogged Sink Fixed Today!
Now that you've seen all the different things that can cause a clogged sink. Hopefully, your eyes have been opened to just how careful you should be when pouring things down it.
Have you noticed that you're experiencing leaky pipes? If so, be sure to read this article on what do when your pipes are leaking.
For more inquiries that you may have, be sure to reach out via our contact us page and well be happy to assist you further.
big c's plumbing services
© 2013-2023 BigCPlumbersTulsa.com
– All rights reserved. –
Information on this website may not be re-used without prior written consent from Big C's Plumbing Services.

Monday-Friday: 8:00am to 5:00pm
Saturday: Closed Normal Appointments
Sunday: Closed Normal Appointments
24/7 Emergency Services Available
Oklahoma Licensed, Bonded, Insured
OK. Plumbing Contractor & Gas Fitter #063224