Big C's Plumbing Blog
Plumbing Articles from Tulsa, OK.
Traditional vs Tankless Hot Water Heaters: Pros and Cons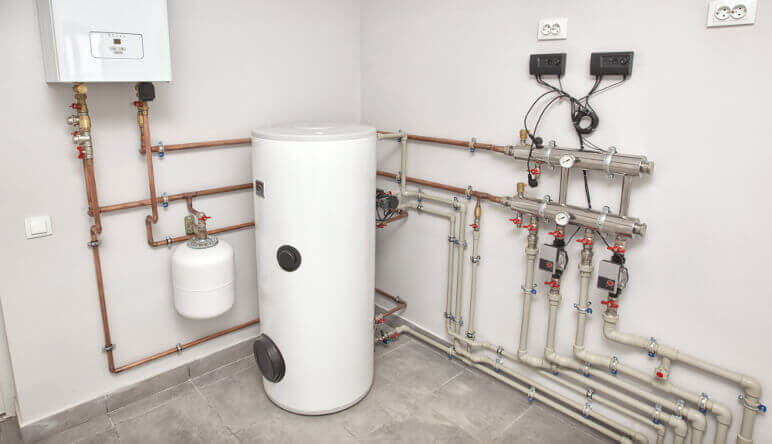 Your hot water heater is the main appliance of your home's plumbing system. Without it, many of your other appliances, like your dishwasher, would be unable to function. Not to mention that a lack of hot water would make simple tasks like showering or washing your hands unpleasant.
The two most common types of hot water heaters are traditional storage water heaters and tankless water heaters. As their name suggests, the largest difference between the two types of water heaters is the presence or absence of a storage tank to hold hot water in.
Having or not having a storage tank provides several advantages to each type of hot water heater. Knowing the key differences between traditional and tankless water heaters lets you make an informed decision about which one to install in your home.
Advantages of Traditional Hot Water Heaters
Traditional hot water heaters are the most common type of water heater in older homes. They range in price depending on their size, but you can easily find a model that comes in at a low price point and fits your budget.
Traditional water heaters can use different fuel sources to generate heat, including natural gas, propane or electric heating elements. If you already have a natural gas line in your home, no special connections or construction is needed.
Traditional water heaters will hold onto a large reserve of hot water. This means that they can distribute water to several appliances and faucets all at once, without ruining your water pressure.
Disadvantages of Traditional Hot Water Heaters
Traditional water heaters do come with some significant faults. First of all, they have a limit to how much hot water they can provide. Once the tank runs out, you're out of luck until it refills.
Refilling the tank can take some time, depending on its size, the type of fuel source your water heater uses, and how old the unit is. This means that you may be without hot water for a little while.
Additionally, the tank makes traditional hot water heaters not very efficient. This is because they have to reheat the water inside the tank throughout the day to keep it ready to go at a moment's notice.
This can result in high utility costs each month, especially for older and less efficient units. Keep in mind that high-efficiency traditional water heaters exist, which won't waste as much energy. Additionally, you can install insulating blankets around the storage tank to reduce how much heat is lost.
Further, the tank can rust or spring a leak with age, which can cause a great deal of water damage and can be expensive to replace. You will also need to flush out the tank at least once a year. If you fail to do so, sediment can build up over the heating elements and reduce the efficiency of the unit further.
Advantages of Tankless Hot Water Heaters
Tankless water heaters, in contrast, work to heat water as it passes through the heater. They are effectively on-demand water heaters, which means that there is no waiting time for your water heater to recharge.
This also makes them more energy efficient than their traditional counterparts, as they won't have to reheat water constantly. For larger homes, these savings can be significant and pay down the cost of the water heater itself. The Department of Energy suggests that tankless water heaters can reduce hot water heater energy use by up to 34 percent.
Another thing to note about tankless water heaters is that they are by nature very low profile. You can install them on the wall of your bathroom, in a closet, or elsewhere in your home without sacrificing storage space.
Disadvantages of Tankless Hot Water Heaters
However, despite their higher efficiency and lower profile, tankless water heaters do come with some considerations. Most noticeable is their higher initial price point when compared to traditional models. This is because they use high-efficiency components and more complicated construction.
The more complicated inner workings of a tankless hot water heater make repairs more expensive.
Additionally, moving from a traditional system to a tankless one means that you will have to adjust your plumbing hookups. This raises both the cost and time needed to install your new unit. While the energy savings each month can work against this high price tag, it will take a while for the savings to be worth it.
You should also keep in mind that tankless hot water heaters can struggle to provide hot water to several different faucets at once. While you will never run out of hot water while taking a shower, you may experience inconsistent temperatures if you are showering while doing laundry and running the dishwasher.
You can install a tankless hot water heater with a higher flow rate to prevent this from happening. However, models with higher flow rates also cost more, which you should take into consideration.
Install a New Hot Water Heater Today
Now that you know the major differences between traditional and tankless hot water heaters, you know which one best fits your needs. In general, if you have the budget for it, a tankless hot water heater is the better choice. However, if you are living in an older home and don't have the budget to retrofit your plumbing, going with a high-efficiency traditional model is a good compromise.
For all of your hot water heater needs, or anything relating to your home's plumbing, feel free to contact us. Our team of experienced professional plumbers
big c's plumbing services
© 2013-2023 BigCPlumbersTulsa.com
– All rights reserved. –
Information on this website may not be re-used without prior written consent from Big C's Plumbing Services.

Monday-Friday: 8:00am to 5:00pm
Saturday: Closed Normal Appointments
Sunday: Closed Normal Appointments
24/7 Emergency Services Available
Oklahoma Licensed, Bonded, Insured
OK. Plumbing Contractor & Gas Fitter #063224